The GigaOM Interview: Qwest CEO & Chairman Edward Mueller
This past week I got a chance to catch up with Edward Mueller, CEO & Chairman of Qwest, the smallest of the Baby Bells, which competes with its bigger brethren, AT&T and Verizon, in the long-distance, business and government markets.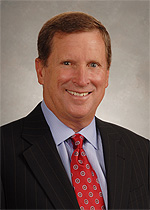 Mueller, who at one time was CEO and president of Ameritech (now part of AT&T), replaced Richard Notebaert in August 2007.
Since then he has been quietly trying to shore up the Mountain Bells, forging alliances with the likes of DirecTV and making plans for a broadband future. My overall impression from our conversation was that Mueller is being very cautious and is loathe to making sudden moves.
From expanding data center capacity to adding new business lines, Qwest is staying true to its financial realities. The company, which posted $13.8 billion in sales for the full-year 2007 period wants to be "nimble & efficient," Mueller explained. Here are edited excerpts from our conversation:
Om Malik: Your first few months at Qwest have been awfully quiet. What have you guys been up to?
Edward Mueller: We have laid out a plan and are finally putting meat on the bones. We want to be nimble and efficient. We are focused on our three core businesses — wholesale, small business and consumer. We are now one of the three picks for the government network (Networx), so I like our position. If we can get a wireless partner, we can do well.
OM: Why partner when you can buy yourself a wireless company? Sprint and Alltel are two that come to mind.
MUELLER: We are not looking to buy a wireless company at this time, and frankly buying Alltel and Sprint will be a reach for us. All we want to do is partner with a national wireless player where we can rebrand and remarket their service to our customer base. We are ambivalent about the technology but we want a partner with retail presence.
OM: What are your thoughts on wireless broadband? Also why not buy or build your own wireless broadband network?
MUELLER: Wireless broadband is going to be the biggest part of wireless and voice will ride on this network. I think it is going to be a robust network. But to play in this business your network has to be national and that is very expensive for us. We are a good partner for others for providing access to customers. That is what we are good at.
OM: What are your broadband plans? Any fiber-to-the-home plans?
MUELLER: We are expanding our FTTN network, and will soon offer 20 Megabits/second and eventually 40 Megabits per second using pair bonding. We are building this out and spending $300 million on it. The trial we are running in Colorado Springs has had a good uptake and customers are paying for the higher speed service. (Editor's note: At a meeting with Wall Street analysts, Mueller said Qwest can make a billion dollars from broadband.)
OM: What are your video plans?
MUELLER: We are not going to offer broadcast television, but instead will offer video on demand and Internet video. We have a partnership with DirecTV and it is our desire that we provide uplink service for their video-on-demand service.
OM: What do you make of the current housing downturn? Qwest's geographical footprint was where there was a housing bubble — Phoenix and Colorado, for example. Is this impacting your business?
MUELLER: We don't comment on the financials. I think the economy is cyclical and I don't think we have to change too much. We have a plan and we are going to execute against that.