A common misnomer about Voice over Internet Protocol (VoIP) is that it requires you to be using a headset, tethered to your computer.  This is simply untrue as modern VoIP services and solutions use either a) normal corded and cordless phones or b) a specialized phone that resembles a cordless phone or cell phone – just modified to utilized VoIP technology.
VoIP has some major advantages over traditional landline phones. First, typically you can call phones in the US and Canada for one monthly flat rate.  Also, international calls can be made very cheaply.  Included services with your flat rate service include: call waiting, call forwarding, online enabled voice mail, CallerID, and many more.  Whereas conventional phone companies charge you individually for each of these services, VoIP providers give them to you for one flat rate.
Where do you begin if you'd like to use your broadband connection to lower your phone bill dramatically?  Lets walk through some of the options.
More "Traditional" VoIP Services
Vonage is the most well-known Internet telephony service, thanks to their aggressive marketing campaigns. Vonage is a service that gives you a telephony adapter that converts your standard voice signals into packets that can be sent over the internet.  Therefore, you can plug your normal phones into this adapter and start dialing the same way you do with a landline.  Vonage service runs $25/month for unlimited calling to the US and Canada and many additional services including voicemail, call forwarding, etc.  Vonage requires a U.S. shipping address so you must live in the U.S. to use Vonage service.
Vonage service includes e911, which is a service that enables emergency responders to locate you when you dial 911.  Just a few years ago, before e911, there were incidents where responders couldn't located VoIP users who called for emergency assistance.  Now with e911, you give your physical location to the VoIP service provider when you sign up for service.  Accordingly, it is important to update your address with our VoIP service provider should you move.
Packet8 is a veteran VoIP provider and prides itself on stability and reliability.  Packet8 sets itself apart from the VoIP pack by offering solid service and optional video conferencing features.  Their most popular plan, Freedom Unlimited, includes calling to United States, Canada, Puerto Rico, Guam, France, Italy, Ireland, Spain, and the UK for the flat rate of $24.95/month not including taxes and regulatory fees.  Packet8 charges a $30 activation charge.  Like Vonage, Packet8 will provide you with a telephone adapter.  Packet8 also includes e911.
There is a difference between Packet8 and many other VoIP providers that needs to be noted.  The voice technology Packet8 uses to transfer your voice over the Internet, called a codec, is different than Vonage.  Packet8 uses g.729 whereas Vonage utilizes g.711.  The result, in my experience, is that voice quality suffers.  This difference is especially noticeable when two parties on a phone call attempt to speak at the same time and drown each other out because of the way g.729 functions.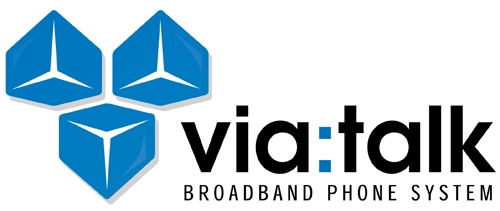 Rounding out the group of notable VoIP providers is ViaTalk.  One of the lesser known VoIP providers, ViaTalk prides itself on outstanding customer support.  You can either pay for an entire year (currently priced at $200/year) or monthly at $23/month, not including fees and taxes.  Their feature set includes voice mail, caller ID, call waiting, call forwarding, call return (*69) and an impressive customer control panel.  e911 service is included with ViaTalk service.  ViaTalk, along with Vonage, is only available in the United States.
I have had to work with ViaTalk customer support on a few occasions and have found them a pleasure to work with.  Their support is U.S. based and available 24 hours a day.
Skype
Unlike the afore mentioned options, Skype does not use a telephone adapter to make your voice calls route over the Internet.  Skype is the grand daddy of the VoIP world and is wildly popular as a computer-based VoIP service.  They offer very cheap voice calls to landlines and cell phones that are billed at around 2 cents a minute.  They've partnered with a few hardware manufacturers and have built Skype phones that look exactly like a cell phone or conventional cordless phones.  My favorite device is the NetGear VoIP841, however I look forward to trying more in the near future.
Skype recently announced a monthly plan that includes unlimited calling to the United States and Canada for $2.95/month.  Skype calls to landlines and cell phones used to vary in call quality, but I have found SkypeOut calls to be as good if not better than a normal landline phone conversation.  To see if Skype might work for you, download Skype and make a few calls to see if your quality is up to acceptable for you.  To get a phone number for people to dial you from conventional phones, you must purchase a SkypeIn number which runs $12 for a 3 month subscription or $36 for one year.
Important notes:
You cannot use Skype to dial 911 in an emergency.  So if you need to dial 911, do it from a cell phone if Skype is your only calling option.  Skype does not use e911.
With any VoIP service, service can go out from time to time, and relies on electric service.  It's important to have a backup plan such as a cell phone in order to conduct business and make phone calls should your VoIP go out for any reason.
These VoIP services are intented for those living in the U.S.  For international VoIP, Skype would be my first suggestion.  If you have experience with an alternative international VoIP provider, please share in the comments.
VoIP call quality is dependent on the quality of your broadband connection to the Internet.