Coping With the Downturn: Peer-2-Peer Rental
With the world sliding into a real or imagined recession (sometimes, it's difficult to tell!) Web Worker Daily has been on the look out for products, services and practices that might help remote workers weather the storm and perhaps feel confident in their own ability to not only save, but even make money in a downturn.
Something that caught my attention recently was Zilok's peer-to-peer rental services. Zilok is at its heart a marketplace for users to either lend their items to others, or borrow items from other users.

The service meets an almost blindingly obvious market need, in that a great deal of our possessions remain idle and unused, seeing utility only periodically – and infrequently. By 'mobilizing' our idle personal inventories, there's an opportunity to monetize or valorize this idle state.
Though the service launched a year ago, the company recently announced a Rental Income Simulator that helps users predict how much money they could make by listing their idle possessions. The figure is derived from the average rental price of an item as well the duration and frequency of its rental period. The simulator lists a dizzying array of household items – from electronics to kitchen appliance – which, when I think about my own usage, probably do lie idle most of the time.
Like eBay, renting an item from another user is free, but the lister of the item pays a modest fee, calculated as a total percentage of the transaction.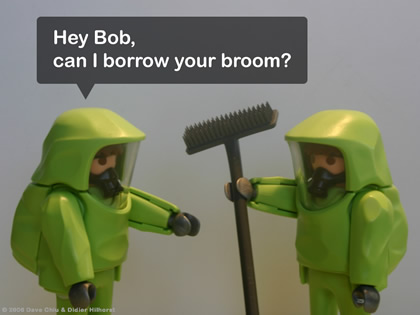 It's an interesting concept, though I've seen more interesting – albeit conceptual – variations, including Dave Chiu and Didier Hilhorst's Rent-A-Thing, that allows users to 'vouch' for each other as a means of assessing the reputability of a renter. Interestingly, the project engaged the Italian post office to provide pickup and dropoff facilities.
Running a handful of my own items through Zilok's rental income simulator suggested a $50/income from renting various low value items in my possession. With some careful selection, there's perhaps the potential to make a modest addition to your monthly income.