BBC iPlayer App's iPhone Update Adds 500K New Users In A Week
The BBC iPlayer iOS app has been downloaded 1.1m times in the week since it was updated to run on Apple's iPhone and iPod touch as well as iPad, says Daniel Danker, the broadcaster's general manager of programmes and on demand.
"500,000 of those downloads were to users who had never installed the app before," says Danker, who adds that the application's new ability to stream TV shows and radio over 3G as well as Wi-Fi is also proving popular.
"Last week, 20 percent of all requests on iPhone were on 3G. That's amazing in such a short period of time. And yet when we look at the audience feedback, nobody has really reported streaming problems over 3G."
The growth of mobile and tablet iPlayer viewing has been sharp in 2011. In October, 16.5m programmes were watched on these devices, up 129 percent year-on-year.
The key factor in this growth was the launch of native iPlayer apps for iPad and Android in February 2011. Previously, the catch-up TV service had been available as a mobile website.
"12 months ago, 5 percent of the total consumption of BBC iPlayer was on mobile and tablet," says Danker. "Fast forward to today, and that figure is 10 percent, one of our fastest growing areas. A year ago, people were sceptical about whether this whole mobile or tablet TV viewing was going to be a big deal. A year on, it's an entirely different story. No one would question it."
Figures released by the BBC when it launched the iPhone version earlier in December claimed the existing app had been downloaded 1.5m times on iPad and 1.2m times on Android.
The 500,000 new-user iOS installs since indicates that iPlayer is now well past the 3m mark for downloads in the UK alone – BBC Worldwide's separate global version is available elsewhere in the world.
"Our audiences no longer expect to watch our programmes to a specific schedule in a specific location," says Danker. "There is an independence that comes with this mobile TV. Whether you are curled up in bed with the tablet, or tuning in to live news when on the road, it's about that choice."
Danker adds that BBC radio may be "the secret winner" from the updated iPlayer app, due to the app's ability to stream radio in the background while people do other things on their iPads or iPhones.
The iPlayer's Android app has not yet been updated with the 3G streaming feature. Danker says it's coming, but that there are a few performance issues to iron out before the app is ready for release. Even so, launching the original iPlayer app simultaneously on iOS and Android in February was a reflection of the BBC's public service remit.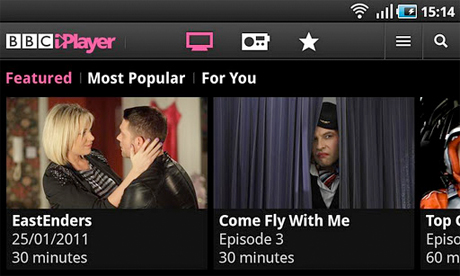 "It's part of our charter, and part of not pre-judging who's going to be successful in the market," says Danker."We've managed to benefit a great deal from that, building a really great partnership with Google (NSDQ: GOOG) and delivering a great experience. It hasn't been as smooth a path as on Apple (NSDQ: AAPL) due to the greater variety of devices on Android. But we are very happy being on Android."
That said, iOS still "punches above its weight" when it comes to usage of the iPlayer native app, despite the sharp growth in Android device sales over 2011.
With that remit in mind, what mobile devices will iPlayer move to next – Windows Phone? BlackBerry? Danker says that the BBC assesses every platform based on where the audience is, as well as balancing experience with value for money.
"In most cases, the very best thing we can do for our audience is a mobile web page," he says, declining to be drawn on specific platform plans. "Where an app store means audiences have an easier way of finding the product, and ways of doing things above and beyond like live TV and background running, we'll go there."
The addition of 3G to the native iPlayer app is significant, but how much of a strain is it placing on the mobile operator networks? Danker says the BBC worked closely with all the main operators before rolling out the feature.
"It could have been a disaster if we had not prepared," he says. "If we were smaller, we could have moved faster, but because our product and service is so big, we could have had an adverse effect on mobile networks in the UK. We were methodical: we worked with all the operators to prepare their networks for what we're coming out with."
Danker thinks that a 3G-enabled iPlayer adds value for the operators, especially those who are selling unlimited-data tariffs (although those plans are certainly much more scarce than they used to be).
He adds that the BBC sees mobile and 3G specifically as an important plank for its Olympic Games coverage in 2012. "We intend to do quite a bit over 3G for the Olympics. It's a very live event, and people don't always want to wait until they get home to experience it."
The broadcaster's Olympic strategy also takes in red-button content for owners of Virgin Media's TiVo set-top box, using the cable provider's apps platform.
"Virgin Media has an open platform that runs Flash and is very easy to develop for. As a result, we are able to reinvest in the red button," says Danker. "Everyone thinks red button is a crappy old technology that doesn't look as beautiful as we have come to expect. But the behaviour of pressing red when you want more is really powerful."
With the native iPhone version of iPlayer out, 3G streaming seemingly working well, and an Android update on the way, what next for iPlayer on phones and tablets? The ability to cache programmes on the device for offline viewing is a key request from viewers, but Danker politely keeps his cards close to his chest about when or whether that feature will be added.
He does stress that the iPlayer team will only add new features if they do not clutter the application's simplicity. "The technologist instincts to continually push new features in tend to be the wrong instincts," he says.How about social features? Music apps like Spotify have jumped on board Facebook's Open Graph to get more people sharing more activity on the social network. Meanwhile, startups like Zeebox have been making headlines for their intent to put social features at the heart of the TV viewing experience, albeit on a second screen to the one that's being watched.
"Our focus with respect to social is that it needs to make the storyline better," says Danker.
"Second-screen experiences can either distract from the programme, or they can add to the storyline of the programme. I think we will come up with examples where it adds to the storyline. That's our North Star for this: not to add interactivity for interactivity's sake."
This article originally appeared in MediaGuardian.