Virgin's TiVo Slow-Mo: An iPad App, Two Years Later
Talk about "agile development"! Virgin Media has finally put a September 2012 launch date on the long-promised iPad controller for its TiVo (NSDQ: TIVO) set-top boxes – that's almost two years after the app was first mooted.
Summer 2010
Virgin Media said it would launch a rejigged version of TiVo's U.S. Premiere box in the UK. TiVo then said it would launch an iPad controller for U.S. premieres.
December 2010
Virgin duly said it would, in due course, also ship a rebadged version of that app.
January 2011
Virgin Media launched the TiVo boxes as planned. At the same time, TiVo released its iPad app. But where was Virgin's iPad app?
February 2011
CEO Neil Berkett promised Virgin customers: "There is an iPad app available today which we will launch in the second half of the year."
June 2011
Virgin Media issued mock-up screenshots of the still-in-development software to satiate eager adopters.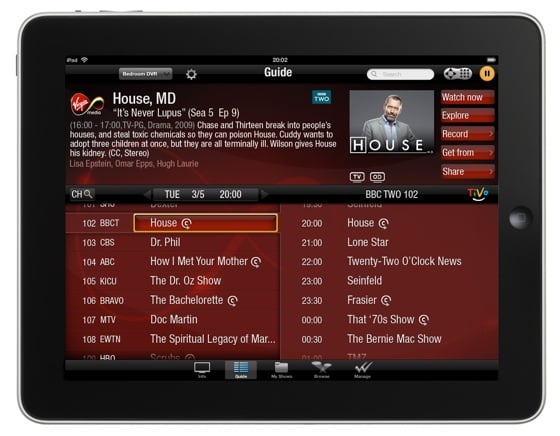 But 2011 came and went with no sign of Berkett's app.
February 2012
On the first anniversary of TiVo's UK relaunch, Virgin executives faced questions from curious City investment analysts: Where the heck was the app?
"We've got it, it works," chief operating officer Andrew Barron said. "Ninety-nine percent of companies would have rolled it out by now – it's stable, impressive – but we haven't…
"We wanted to make sure … that, when it hits, it goes mass-market quite quickly and is not viewed as some flaky application for enthusiasts but is polished and doesn't generate calls to support. It shows you our philosophy – we're a mass-market company."
If you say so.
March 2012
Now, at Cable Congress 2012 in Brussels on Thursday, CEO Neil Berkett gave a revised timeline – the app will finally be out in September 2012, The Register reports.
Tortoise and the hare
That is a phenomenally long gestation in a TV world now being disrupted by nimble new entrants, who are increasingly using rapid web development, test and release cycles to get innovative products in to the marketplace quickly, without stopping to ask questions.
The Zeebox startup managed to build an iPad TV EPG with built-in social features, contextual show pages and click-to-buy in a matter of months, earning it a partnership that effectively makes it the supplier for such technology to Virgin rival BSkyB.
One more feature Zeebox users enjoy – an integrated TV controller that works with… you guessed it… Virgin Media's TiVo….
In other words, Sky has beaten Virgin to releasing an iPad app for Virgin.
TiVo is a significant leap forward from Virgin Media's previous set-top box. But Virgin has been remarkably slow to re-skin an already-existing product, and the paucity of TV "apps" available on TiVo boxes suggests more big-company thinking than the "open platform" mantra executives have espoused on their TiVo trajectory.
The lesson here: must be more nimble.